Ivory Wilcox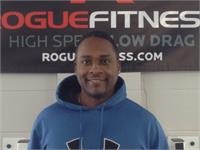 Ivory holds a Bachelor's degree in Exercise Science and Sports Studies from Indiana State. He holds multiple certifications including; Yoga Fit, Silver Sneakers Classic, Silver Sneakers Yoga, Spinning Star Level 3, American Red Cross CPR/AED. He has been personally training for 12 years. Ivory has been a National Level Physique competitor.
He believes the human body is like a car, give it the right fuel, and proper maintenance and it will function properly for a long time. There is no special exercise routine or diet that is a quick fix for weight loss –only modifying your diet and consistent exercise is the key. Ivory believes finding motivation to exercise is the defining factor that prevents one from achieving their goals. Once you make the decision to change your life, Ivory will help educate and motivate you with achieving your goals.
Ivory Wilcox instructs the following:
Ivory teaches a functional class based on strength and flexibility. You will be challenged to improve you strength, endurance and mobility.




Saturday challenge varies by instructor. It could be Chris or Ivory. You can be assured a challenging workout that will leave you feeling great. Each workout is scaled to meet each participants needs. Lace up those shoes and be prepared for anything.